Okay, have you tried taking a shot of Apple Cider Vinegar (ACV)? Yuck! I could never do it. I have known for several years the amazing benefits of ACV. When I saw there was a gummy I was so excited and got myself a bottle! I've been hooked ever since!
I haven't been taking them very long but have already seen some benefits! The main benefit I'm noticing is less bloating! A couple of days ago I was feeling sluggish and wondered why??? Then I remembered I had forgotten to take my Goli Gummy that morning. That was my first realization that these have been helping my energy level!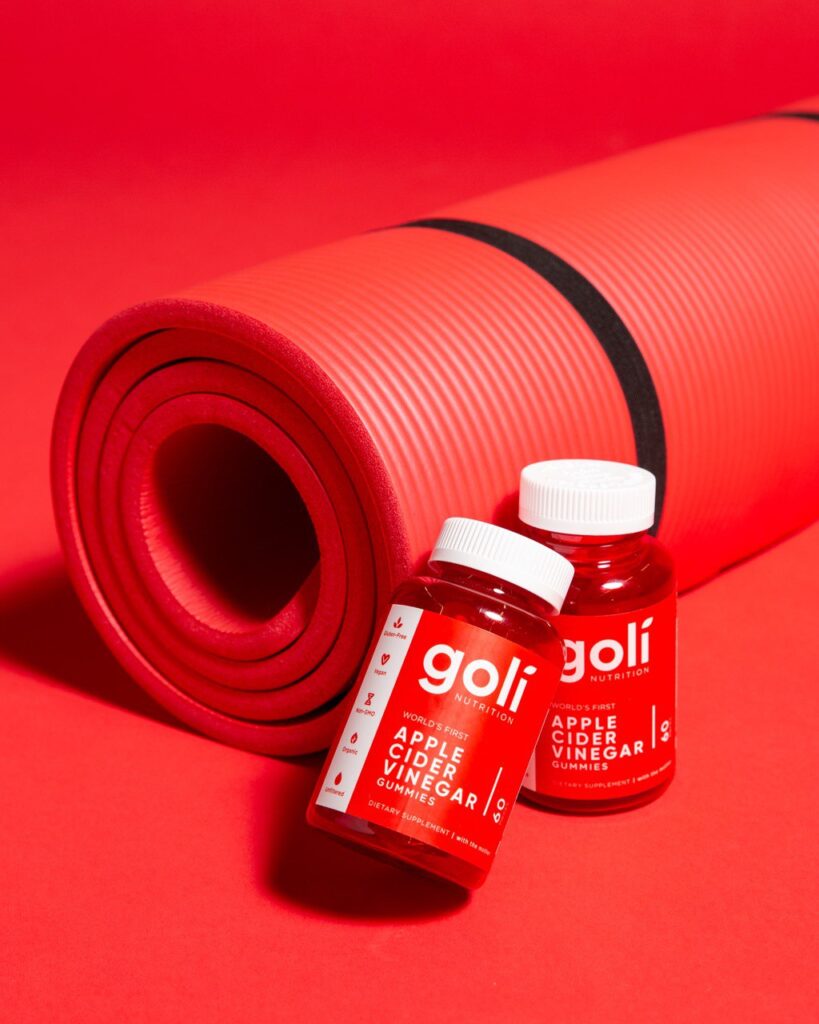 What is Goli Nutrition?
It's a nutrition company that believes in simplified health and wellness. The goal is to help its customers reach their nutrition goals while enjoying their daily supplements. Apple cider vinegar it's exactly pleasing to the tastebuds – but these gummies are!
They make one product and one product only: apple cider vinegar gummies. With their gummies, they believe that they can help their customers not only achieve improved health but also happiness.
Their gummies are gluten-free, gelatin-free, vegan, non-GMO, and made with only highly tested and selected organic ingredients that are free from artificial sweeteners and preservatives.
One of my favorite things about this company is the fact that they participate in the Vitamin Angels program where every purchase made supplies a child in need with a 6-month supply of vitamins. This is a mission that I think we can all stand behind and be proud to participate in.
What Are The Benefits of Apple Cider Vinegar (ACV)?
Although you may feel like ACV just popped up and became a new health trend, the truth is that it's been around for centuries. People have been using ACV in cooking and healthcare since the dawn of time, but new studies are unveiling even more evidence-based information about its benefits that have garnered major mainstream attention.
Here are some of the benefits of ACV:
Supports gut health and healthy digestion
Promotes healthy skin
Supports healthy weight
Immune system booster
Appetite suppression
Improves heart health
Increases energy
Goli Gummies Ingredients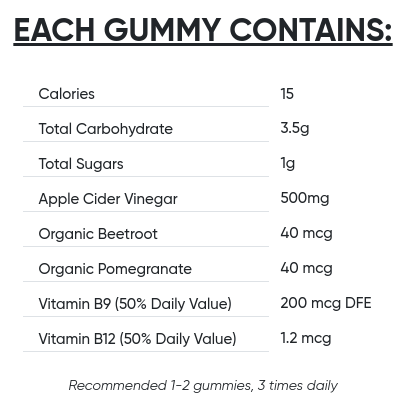 Apple Cider Vinegar
Organic Beetroot
Organic Pomegranate
Vitamin B9
Vitamin B12
Organic Tapioca Syrup
Water, Organic Cane Sugar
Pectin
Organic Apple
Sodium Citrate
Citric Acid
Organic Carrot
Malic Acid
Natural Apple Flavors
Organic Blackcurrant
GOLI GUMMIES DO NOT CONTAIN:
Yeast, wheat, milk, eggs, gluten, soy, gelatin, peanuts, shellfish, dairy, artificial sweeteners, colors from artificial sources, artificial flavors, agave, artificial preservatives, or salicylates.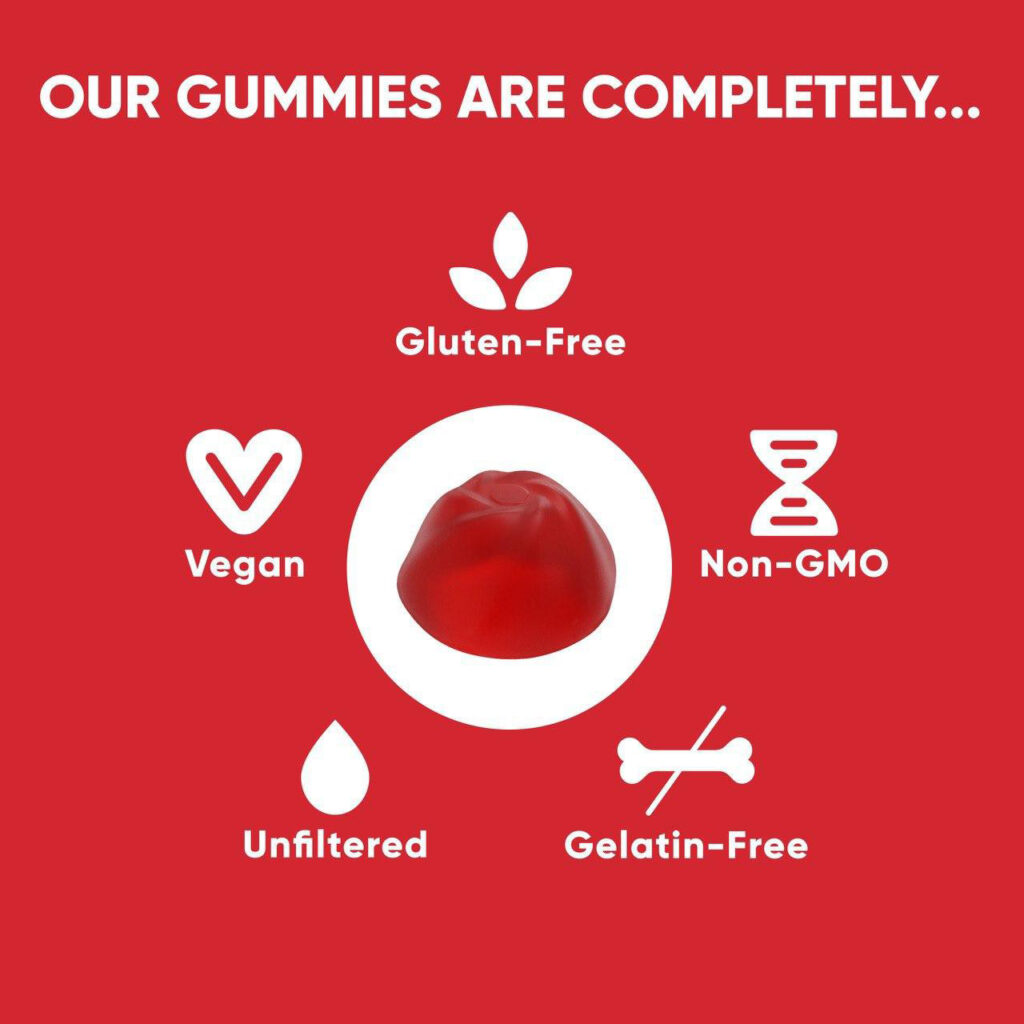 I love that this product is made from real, organic ingredients that are easy to read and understand. The flavors and ingredients are designed to mask the taste of vinegar so that you can reap the benefits without the nasty taste!!
How do the gummies compare to just taking a shot of Apple Cider Vinegar?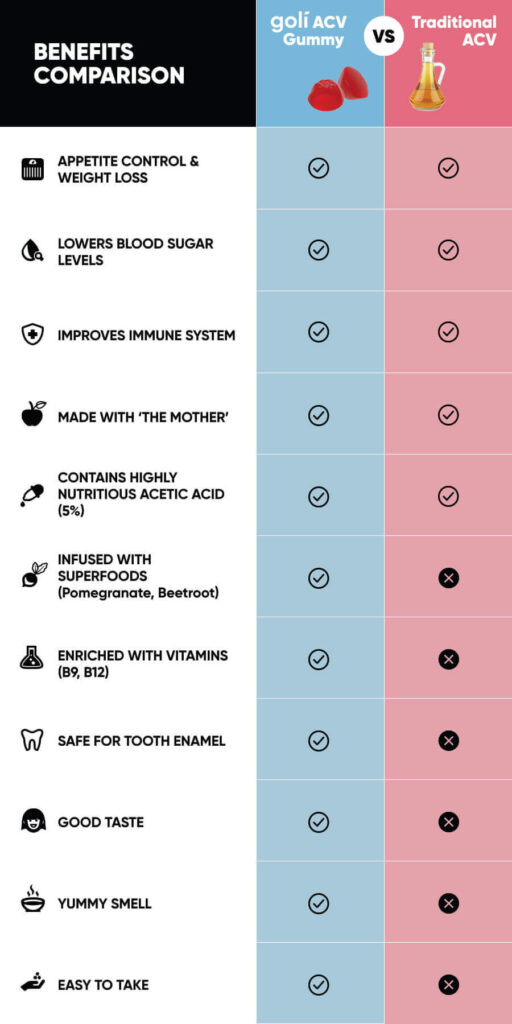 Taste the Apple. Not the Vinegar.
2 Gummies = 1 ACV Shot
Contains powerful antioxidants and is infused with superfoods. With the mother.
ALL THE AGE-OLD BENEFITS OF TRADITIONAL ACV
Apple Cider Vinegar offers many benefits:
Supports Gut Health for HEALTHY DIGESTION
Pectin is recognized as an important prebiotic and fiber and, helps support the healthy flourishing of the gut flora; ultimately providing a beneficial environment in the gut.
Supports SKIN HEALTH
Vitamin B12 deficiency is prevalent in many countries including the US: a deficiency in B12 has been shown to lead to changes in skin appearance.
Supports Healthy WEIGHT MANAGEMENT
Scientific studies have shown that those who consume Apple Cider Vinegar had better weight management compared to those who did not. Combining Apple Cider Vinegar with a well-balanced diet helps support healthy weight management.
Supports a Healthy IMMUNE SYSTEM
Prebiotics are essential for good gut health: the gut provides important support for your immune system by enhancing the good gut bacteria. Pectin helps support healthy gut bacteria growth and helps support a healthy immune system.
Helps Reduce APPETITE
Apple Cider Vinegar contains natural acids and enzymes that help to reduce appetite and increase the feeling of fullness.
Supports HEART HEALTH
Apple Cider Vinegar supports a healthy cardiovascular system: it helps maintain good cholesterol levels already in a healthy range. The added vitamins, B9 and B12, help keep blood cells healthy and support cardiovascular health.
Helps Improve ENERGY
The Amino acids in Apple Cider Vinegar, as well as potassium and enzymes, may help relieve fatigue, especially when exercising. In addition, Apple Cider Vinegar helps support a healthy gut, which in turn contributes to the regulation of the body's energy. Vitamin B12 is used in many essential processes in the body, including energy production. The added Vitamin B12 helps improve energy production and reduces the feeling of fatigue in those who are deficient.
Want to read more about the amazing benefits of Goli Gummies click here.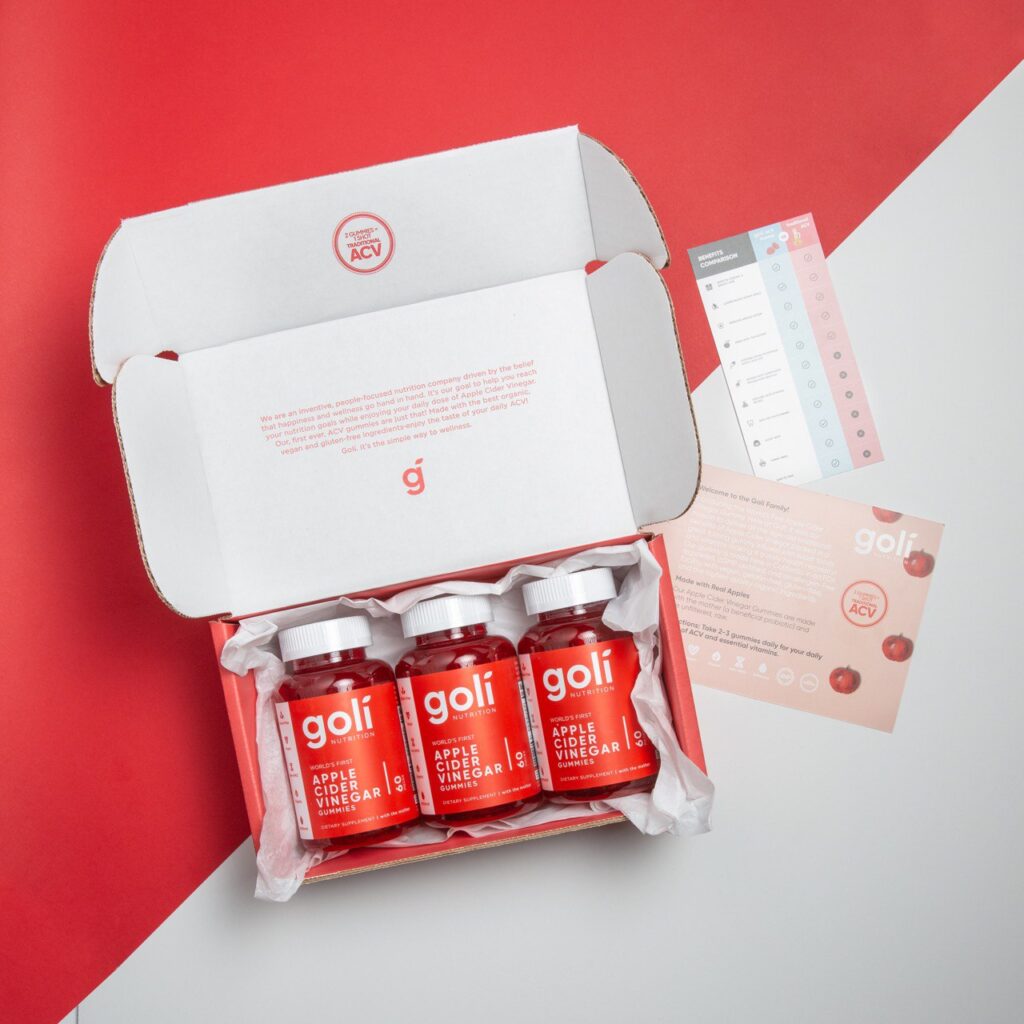 Ready to order you a bottle? Click here
Use promo code to save 5% : innovativehealthandfitness
OTHER ESSENTIAL INGREDIENTS
Pomegranate
What can we say? This superfruit has a heck of a lot going for it. Pomegranates are a delicious source of important nutrients. The peel and seeds offer a generous amount of nutrients and bioactive plant compounds. These ingredients are powerful stuff, called punicalagin and punicic acid.
Beetroots
Are a popular superfood for all of the fiber, vitamins and minerals they contain. Beetroots have been recognized for their beneficial properties for centuries. These beetroots help give our Goli Gummy that yummy taste everyone enjoys!
Citrus
Citric Acid has many benefits including producing energy that keeps you active and healthy.
Vitamin B12
Vitamin B12 deficiency leads to general fatigue and tiredness. B12 helps with energy production in the body, breaking down the food you eat into available energy.
Vitamin B9
Folic acid is an essential nutrient that helps support overall health and general well-being.
Pectin
Pectin is a fiber and a natural prebiotic that helps support a healthy gut for healthy digestion. It creates a beneficial environment that encourages gut flora to flourish.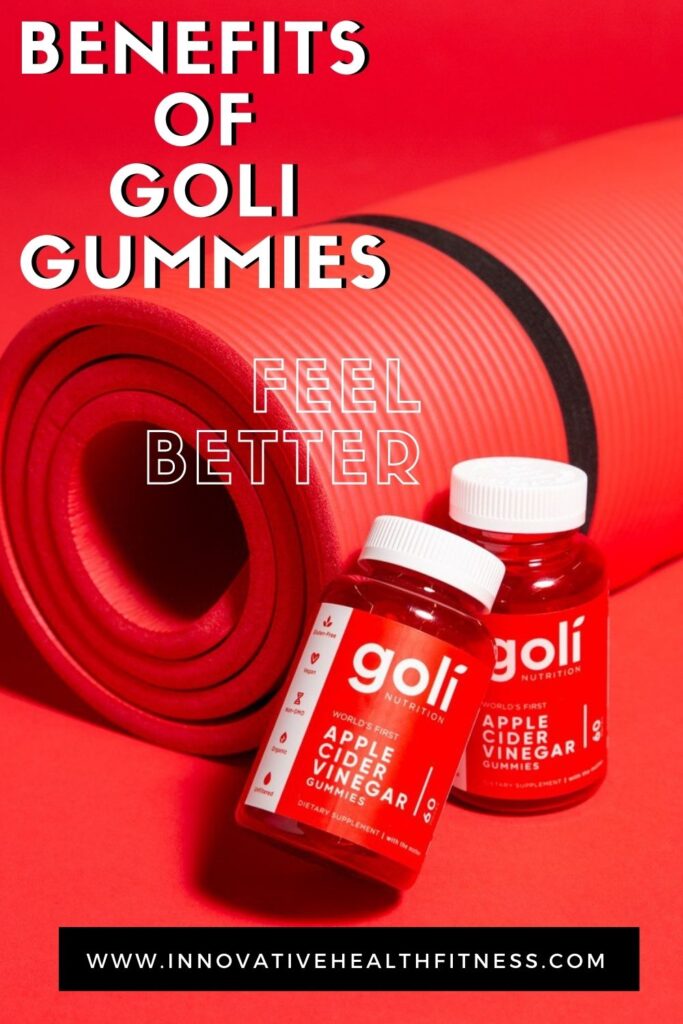 Ready to order you a bottle? Click here
Use promo code to save 10%: livesimplywithkristin
This code can be stacked with sale process!!
I would love to hear about the benefits you have noticed from ACV! Leave me a comment below!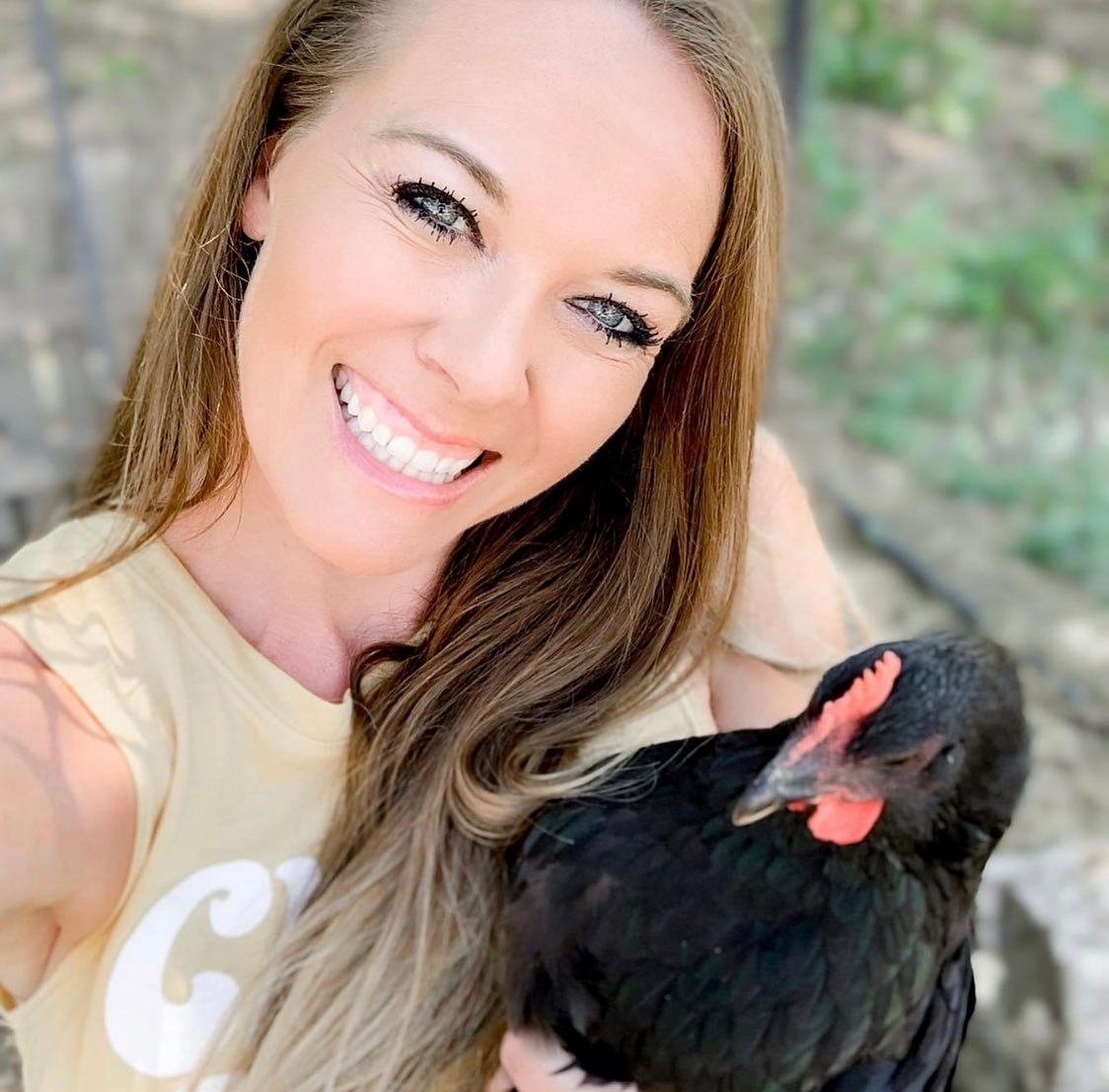 Hi!! I'm Kristin McConnell,  I am so glad you are here! I am a wife to my amazing husband and a Mom of two fabulous kids.