Let's start at the beginning for the last few weeks I had noticed my right arm was swollen and turning blue and purple. There was small bruise on my shoulder but I hadn't injured it. I also noticed that I had a bruise on my knee which was from a bug bite so I thought that might be the case. I asked my husband as well as my daughter if they could see a difference in my arms. At that time they couldn't really tell. It was later in the week my husband was watching my latest Workout Video.
Check it out here.
My husband noticed in that video my arms were two different colors and sizes. We decided it was time to make a doctor's appointment since it wasn't getting any better. I scheduled it for the next day hoping that I could sleep it off and it would be better in the morning.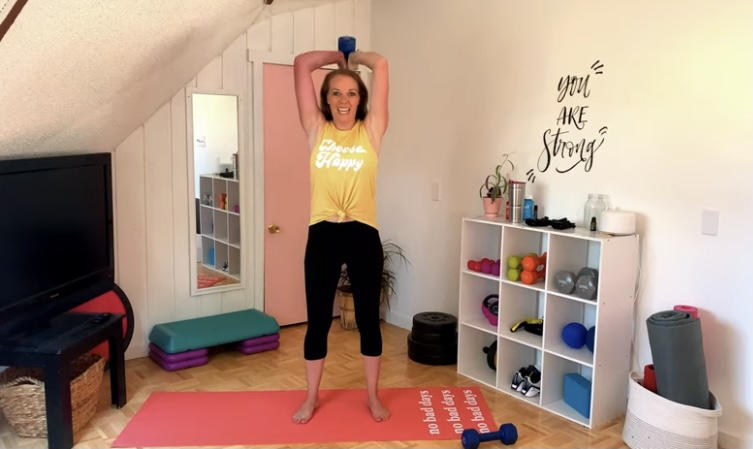 In the image above you and see that my right arm is purple and blue.
Friday afternoon I went to see my Primary Physician. My doctor was super puzzled and thought it might be a blood clot. She sent me to the ER right away to have an ultrasound done. We had plans to celebrate my birthday at my parent's house that evening but I had to call my Mom and cancel. We joke that this was an extreme excuse to get out of our family dinner. Haha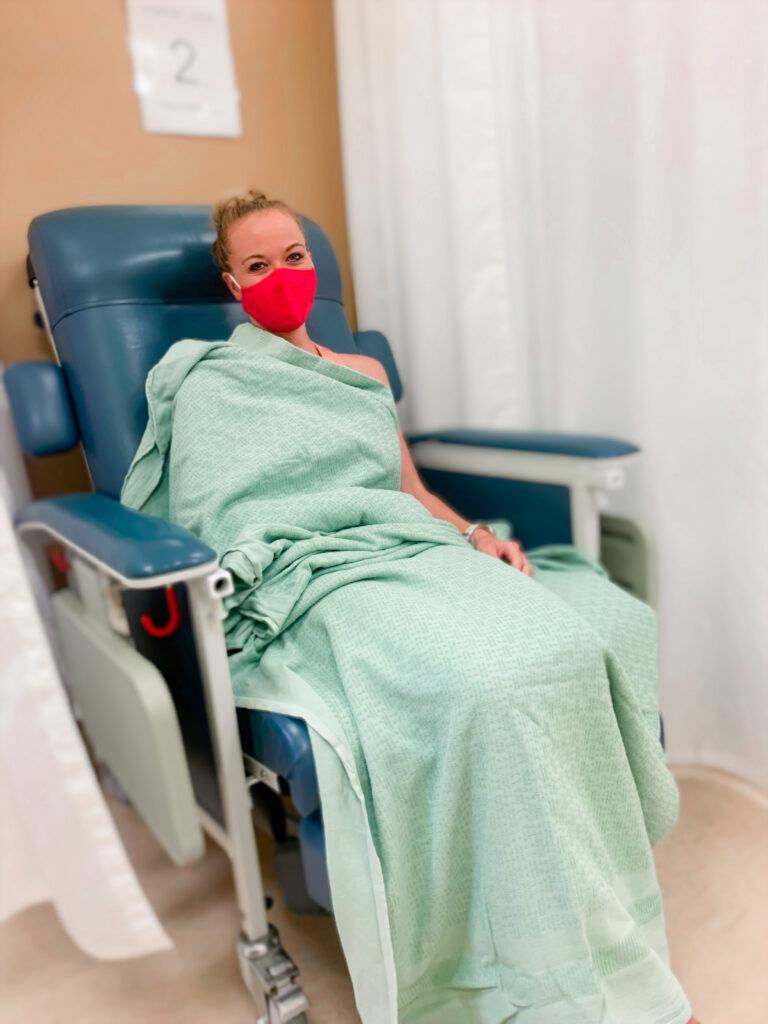 Let me tell you this warmed blanket was so nice in the cold hospital! And in all honesty, I wasn't going to take one when the nurse offered it to me because I didn't want to inconvenience him! I much prefer to take care of others than have them take care of me. But last minute I decided to take him up on his offer and I am so glad I did! It was FREEZING in the ER!!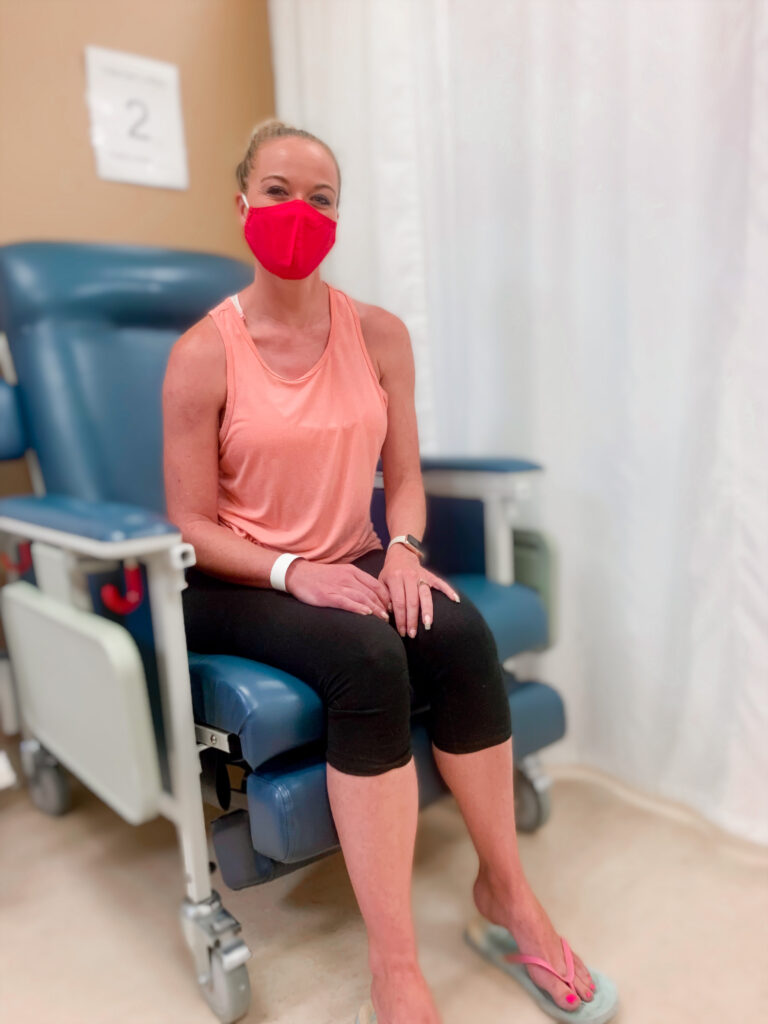 This was me before the warm blanket freezing my arm in pain but still trying to stay positive after arriving at the ER! =)
Ultrasound came back clear with no blood clot, so they sent me home. I had a follow-up appointment that Wednesday with my primary doctor. She had me go have some blood work done, they took 8 vials of blood that day testing for all kinds of things. The following day I had an appointment with a Vascular Surgeon. He said I was a bit of a mystery! The surgeon did a few tests and concluded that I might have Thoracic Outlet Syndrome. Which meant he needed to do a Venogram. And if he saw I had a blood clot they would do a clot-buster to break up the clot. He actually tried to get me in the next day but there weren't any beds available. He scheduled me for surgery that Monday.
Before we knew the surgery was going to be on Monday while we waited for the doctor to come back into the room. I started to cry and worry about the kids. The school was about to start on Monday and we didn't have a chance to go school clothes shopping yet. When I was told my surgery would be on Monday I was happy and sad at the same time this meant that I had a couple of days to get school clothes for the kids but it also meant I would have to miss taking Gillian my daughter to her first day of High School. Thanks to my Dad for taking her!! He has actually been taking both kids to school the last couple of weeks!!
Friday was a busy day with the kids with me we went to a drive-through Covid test to make sure I was Covid Free for the surgery. That wasn't as bad as I had thought it would be they did a rapid test so they didn't have to go all the way up into my brain. LOL Like I've heard so many say. Then the kids and I went to a couple of stores to get new school clothes and some lunch and snack food.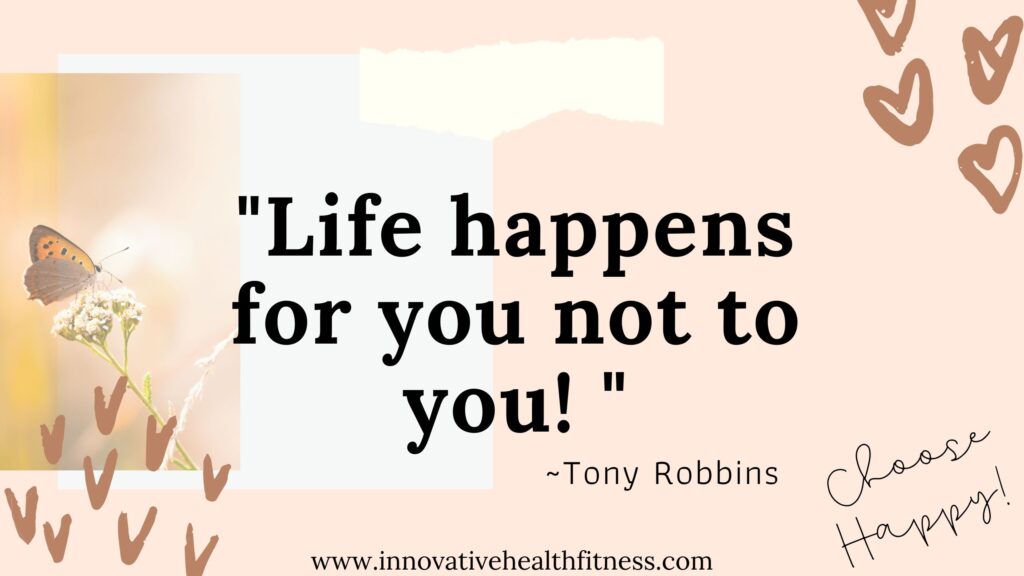 Life happens for you NOT to you! ~Tony Robbins
Click To Tweet
That afternoon I had a pre-surgery appointment at the hospital. We went over all the details and what to expect during and after the surgery. I then had more blood drawn for even more tests.
Monday morning I was able to get my first-day photo of my daughter before we headed to the hospital for my venogram.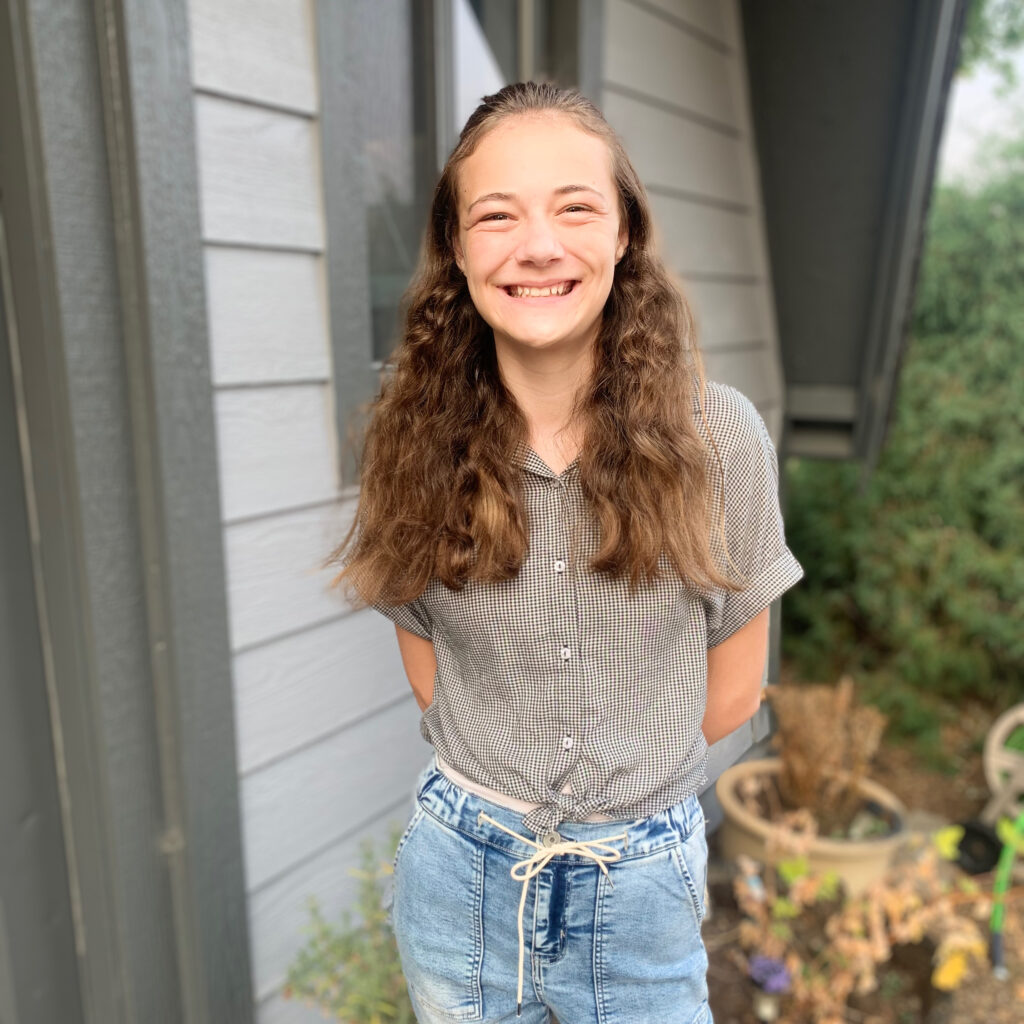 During the surgery, they didn't find any sign of a blood clot but discovered that I do indeed have Venous Thoracic Outlet Syndrome or vTOS for short. What does that mean? Basically, I have a compressed vein in between my collar bone and first rib. They positioned my arm in a couple of different ways when my arm was straight down the vein is about 60-70% compressed than when they raised my arm it is about 90% compressed. I have great blood flow into my arm it struggles to leave my arm and that is why I am having these issues!
This blanket they had on me was absolutely amazing! It was hooked up to a heated air machine and blew warm air through the blanket it was warm and cozy!
What the heck is vTOS?
Vascular thoracic outlet syndrome. This type of thoracic outlet syndrome occurs when one or more of the veins (venous thoracic outlet syndrome) or arteries (arterial thoracic outlet syndrome) under the collarbone (clavicle) are compressed.
You can read more about it here.
Thoracic outlet syndrome symptoms can vary, depending on which structures are compressed. When nerves are compressed, signs and symptoms of neurological thoracic outlet syndrome include:
Muscle wasting in the fleshy base of your thumb (Gilliatt-Sumner hand)
Numbness or tingling in your arm or fingers
Pain or aches in your neck, shoulder or hand
Weakening grip
Signs and symptoms of vascular thoracic outlet syndrome can include:
Discoloration of your hand (bluish color)
Arm pain and swelling, possibly due to blood clots
Blood clot in veins or arteries in the upper area of your body
Lack of color (pallor) in one or more of your fingers or your entire hand
Weak or no pulse in the affected arm
Cold fingers, hands or arms
Arm fatigue with activity
Numbness or tingling in your fingers
Weakness of arm or neck
Throbbing lump near your collarbone
How do we fix this Venous Thoracic Outlet Syndrome?
More surgery!!
The best and most effective way to treat vTOS is to have your upper rib removed! What?! Yikes! This totally freaks me out so very much!
I go back to my Vascular Surgeon in a couple of weeks to do a follow-up after my surgery and schedule my rib removal surgery!
I will continue to update you on how things are going! Do you or someone you know have vTOS? Leave me a comment below with your story I would love to hear it!
Thank you for being here and following my journey! I hope you have a wonderful day!
Happy and Healthy,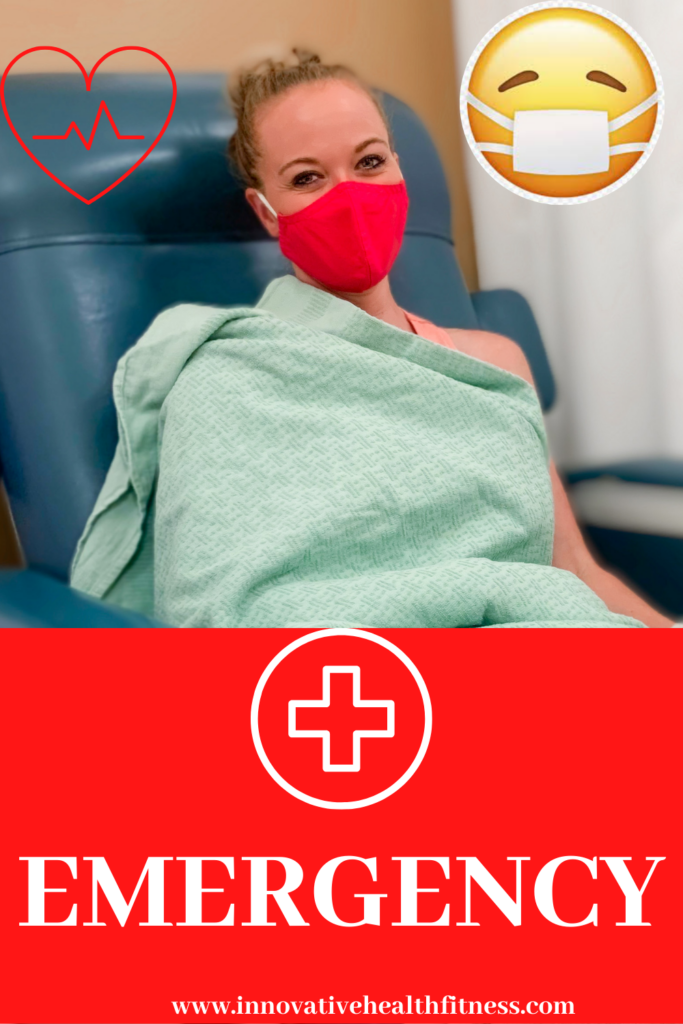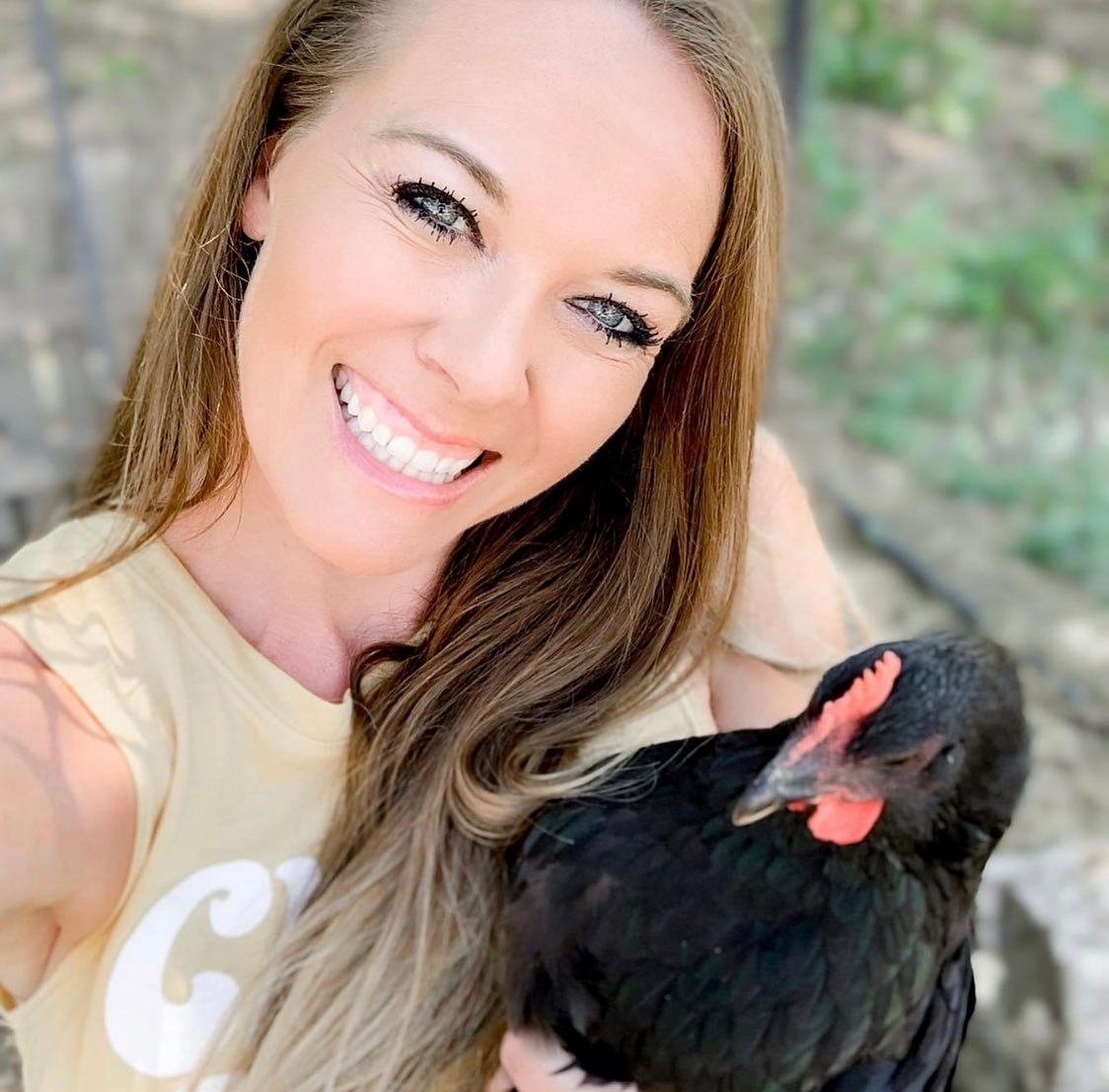 Hi!! I'm Kristin McConnell,  I am so glad you are here! I am a wife to my amazing husband and a Mom of two fabulous kids.