Welcome to my first Ask me anything Health & Fitness Addition. I am so excited to bring this new series to my blog as well as to my Instagram! =)
The following are totally anonymous questions that you've submitted, and I'm providing my thoughts and advice. I received some amazing questions, and because I plan to post this series regularly, not all have been included. If you have a question that you'd like advice on in the next Q & A, please submit it here.
On Instagram last week I asked my followers what their Health and Fitness questions were. I answered them in my stories with a quick answer. I thought it would be fun to continue the Q & A in a bit more detail!
Now to the Q & A …
What's your favorite kind of workout?
My favorite kind of workout is Strength Training! Don't be afraid of lifting weights! I absolutely love BODYPUMP! I started to do this workout at the gym and absolutely fell in love with this workout. Now I get to do it right at home! I also love yoga, BODYCOMBAT, and LES MILLS CORE.
Here are some similar blog posts you may like:
What are some ideas to still get some movement but can't workout due to sickness or injury?
You definitely want to listen to your body and not overdo it. If you have a minor cold I suggest bringing down the intensity. Often, you will feel better with small exercise and it can also boost your immune system. If you are used to exercising and working out frequently you might actually feel better with exercise rather than stopping. Just need to decrease the intensity a bit. You know your body best, so just don't push it."If you have a fever or the flu I would skip your workout altogether until you are well.
Try going for a nice walk around the neighborhood or a yoga session. This isn't the time for a marathon!
With an injury, you definitely need to listen to your body and not overdo it! Until you are fully healed, don't do any activity that could trigger the injury. And avoid any activity that puts strain on the injured area. You can still be active as long as you don't stress about the injury. Staying active may help you heal quicker than if you just lay on the couch.
Take a nice a walk
Here are some similar blog posts you may like:
What got you into fitness?
I have always loved working out and wanted to do something that was flexible so I could be home with my kids and still bring in some money for the family. I joined a StrollerFit Class and fell in love with this type of workout. It was actually another Mom in the workout group that suggested I get certified and become a trainer! I never ended up teaching StrollerFit I had an opportunity lined up as soon as I became certified in training but it fell through shortly before completing my certification. I did come across another opportunity several years ago and interviewed for the job. My kids were 11yrs and 8yrs old at that time and the interviewer sent me an email by accident meaning to send it to her boss saying "She's a mom, but her kids are a bit too old!". haha /
Here are some similar blog posts you may like:
Do you offer meal plans?
I have in the past offered custom online nutrition coaching. I have been thinking about bringing it back. Click here to join the waitlist and be the first to know when I'm launching my new program!!
I also do a Meal Planning Sunday Each Sunday I post healthy and EASY meals that will get us all in and out of that kitchen as quickly as possible. As a busy Mom of two, I want to make these plans as kid-friendly as possible! If you are on my email list I will be emailing you as well to let you know the new menu is up!
Here are some similar blog posts you may like:
Best workouts for weight loss?
Strength training is the best for weight loss. Don't be afraid of lifting weights! When you build muscle, you increase the amount of lean tissue in your body. A body with lean muscle mass burns more calories—even when it is at rest. Strength training exercises to lose weight more effectively.
Don't spend hours on the treadmill!
Here are some similar blog posts you may like:
How much water do you need to drink?
You want to drink half your body weight in ounces each day. I know this can be challenging try adding a couple drops of lemon or lime in your water or even add some fresh fruit!
Example: 150lbs/2 = 75oz of water per day.
Here are some similar blog posts you may like:
What is the best routine of workout to stay healthy?
The best workout routine is the one you actually do! It is important to find something that you like to do this will make it easier to keep on track and it won't seem like such a chore.
Cardio then Strength or Strength then cardio?
Strength then cardio you want to be at your best while lifting weights. You want to be at your best and have good form while doing a strength training workout.
Have you always been into fitness?
Yes! I've loved to workout for a long time, I was on the swim team when I was younger I played tennis for a session. In high school, I took a Kickboxing class and a dance class. I have always just enjoyed how it made me feel. I would make up my own workout routines at home and even did some VHS home workouts. When I had my son
Here are other blog posts you may like:
And that concludes my first edition of the Q & A!
HOW TO GET YOUR QUESTION ANSWERED IN THE NEXT Q & A
If you want some help with something you're thinking of or dealing with for our next advice corner, please submit your question here. I'm not collecting your email or name, so you will be totally anonymous. Thank you so much for contributing!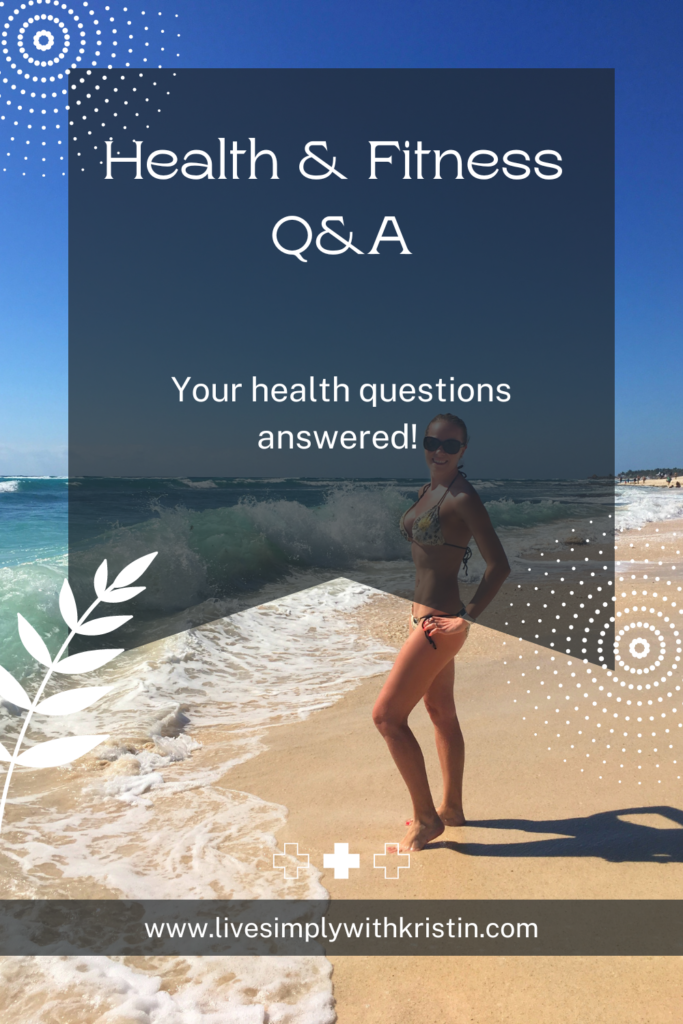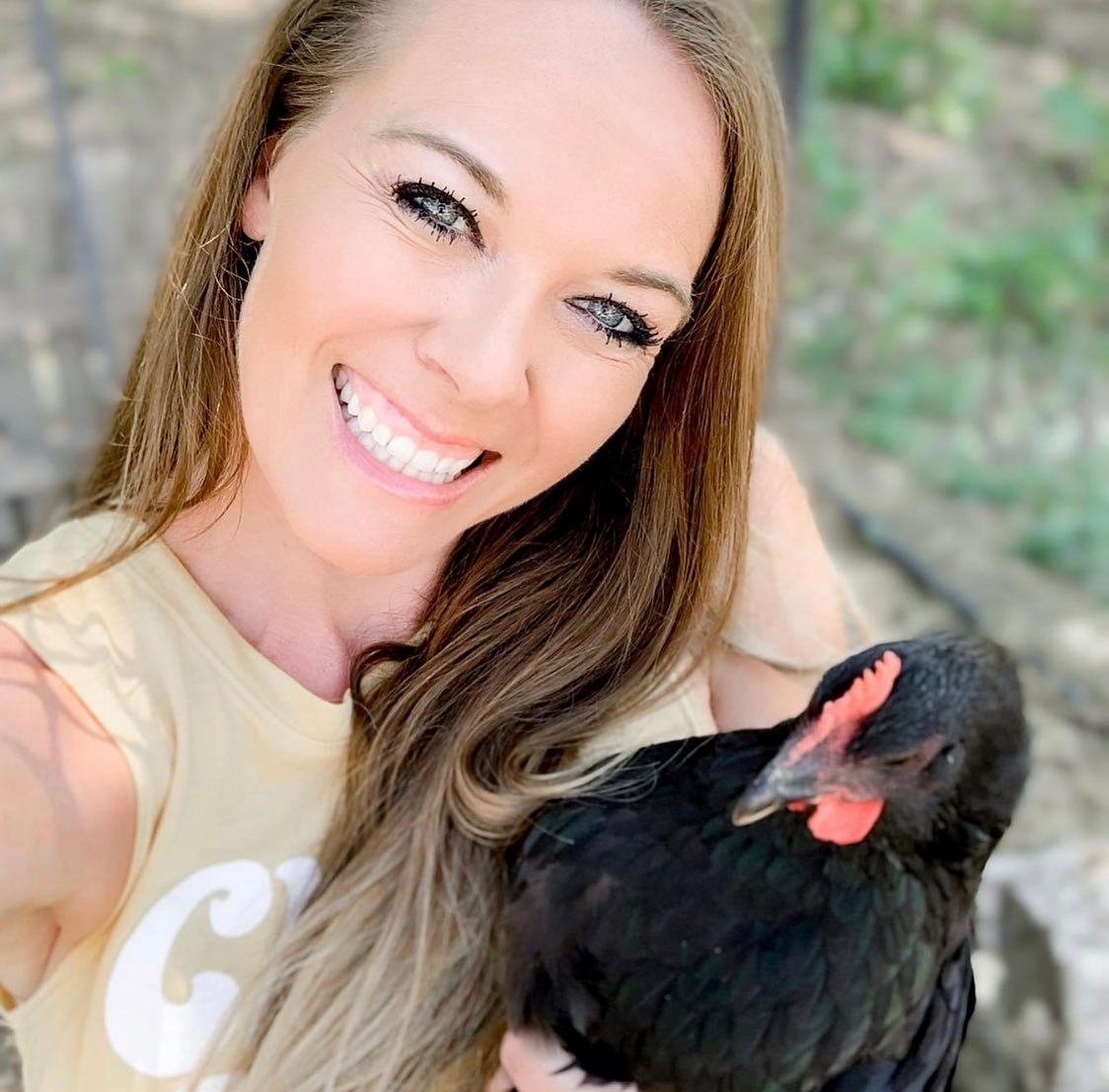 Hi!! I'm Kristin McConnell,  I am so glad you are here! I am a wife to my amazing husband and a Mom of two fabulous kids.